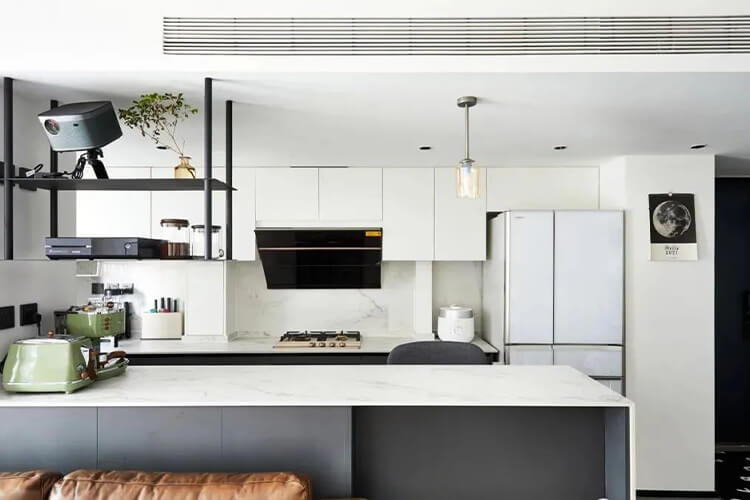 When customizing kitchen cabinets, most families tend to fill the space under the countertop with cabinets for additional storage. While this approach offers more storage space, it may not be the most practical design for families who frequently cook at home for the specific reasons below.
The kitchen, often considered the heart of a home, is where the essence of family life truly comes alive. Within this vital space, kitchen cabinets play an indispensable role, and the incorporation of stylish and practical high-end cabinets can elevate your living experience to a new level. Read on to learn more exquisite custom kitchen cabinet designs.

If you've ever contemplated renovating your kitchen, you'll know there are many decisions to be made, and the choices can seem endless. One aspect of kitchen remodeling that often gets overlooked is the selection of cabinet doors. Cabinet doors, or cabinet door styles, come in a variety of designs, textures, and materials.

Embedded cabinets are currently a very popular practice in modern interior design. This design combines aesthetics and practicality, making living spaces more beautiful and convenient. By making cabinets embedded, they seamlessly blend with the wall, creating a smooth and tidy appearance while efficiently utilizing wall space, reducing the cabinets' impact on the rest of the space. Read on to get to know more ideas about embedded cabinet designs.

Countertops are an essential component of the entire kitchen, serving not only for practical purposes but also to enhance the kitchen's aesthetics and overall appeal.

A well-designed dining sideboard not only serves as a storage powerhouse and a stylish addition to your home but also enhances the practicality and efficiency of your daily routines! Wondering how to optimize your dining sideboard for maximum practicality and utility? Keep reading to find out more.

While the kitchen primarily serves a functional purpose, those who seek a high-quality lifestyle also desire an exterior beauty in their kitchen design. Who wouldn't want their home to be aesthetically pleasing in every corner?